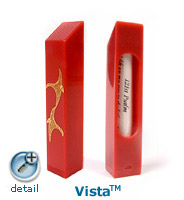 Our Safe Journey™ products were created exclusively for us by the prominent California artist, Harvey Brody. Each unique design has a symbol of birds in free and safe flight and Harvey has given each a delightful tactile quality. There are raised and gold edged birds on the tubular Windsong model, gold embossed birds and a textured top on the Vista and the very striking solid brass Arbor is distinguished with laser etched birds and top.
Each of the three beautiful models, 2.5 inches tall and .5 inches across, comes in a color and finish specifically chosen to enhance its simplicity and beauty:
Arbor is solid brass with a silky satin finish and is a light 1.3 ounces; openings on three sides provide maximum viewing of the internally placed prayer;



Vista, a lovely deep rose color, has a striking finish, excellent tactile quality and the single window enhances its sleek and pleasant lines;



Windsong, a round design, comes in a marvelous regal purple greatly complemented by the wide rear window and the raised and etched birds in flight motif on the front.
In all three designs the inserted prayer is printed in the Holy Land with an eye-pleasing color-coordinated background. And each comes with a handsome velour carrying pouch.
Lightweight but durable, comfortable to carry, pleasant to the touch and easy to admire, the keepsakes also meet the requirements of the U.S. Department of Homeland Security.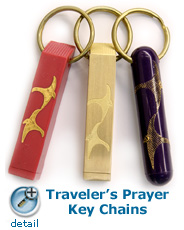 The tasteful and practical Traveler's Prayer key chain versions, shown left, each come with a 1" brass ring to accommodate multiple keys.

Each design is very attractively priced, with the resin models (Vista and Windsong) at a low $8.95 and the solid brass (Arbor) model at just $18.95. And it is only $1.00 additional for the versions that have a solid brass key ring. Order Now