A PRAYER IN YOUR POCKET

What better way is there to give good wishes to a friend or loved one embarking on a journey than by giving them a thoughtful little charm or amulet that offers a bit of comfort and a few blessed words? Traveler's Prayer good luck charms and keychains are the perfect way to say be safe. If you are planning a fundraiser or are the owner of a retail store, Traveler's Prayer wholesale keychains and amulets are the perfect purchase for your customers.

A LITTLE MORE ABOUT TRAVELER'S PRAYER PRODUCTS

All of these durable, long lasting brass and resin prayer boxes are beautifully designed to fit comfortably in a person's purse, pocket, attaché or school bag. You can choose from a number of prayer options to go on the insert (each of which are printed in the Holy Land). Prayers include the Lord's Prayer, the tefilat haderech and others. Should it be more appropriate, you also have the option of choosing a Nondenominational blessing. These wholesale Christian gifts have a more personal feel than other small charms and amulets.
Each of these good luck charms has a "birds in flight" motif, which reinforces the idea of travelling freely and safely. These charms are designed to be tasteful and elegant;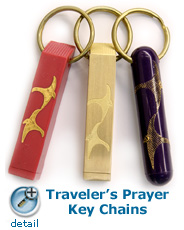 something that anyone would be pleased to give or receive. Depending on your preference, you can choose to order either the keychain version or the pocket amulet.

If you would like to make your good luck charms a little more unique and special, you can (with a minimum purchase of 100) provide a prayer or blessing of your choosing (written or selected by you) which will be printed in the Holy Land and inserted into any of the gorgeous amulet or wholesale keychain designs.
You have the option of choosing between several languages for your prayer insert.

PROMOTIONAL KEYCHAINS

If you are a non-profit or for-profit just looking for a new and exciting way to promote your organization, Traveler's Prayer promotional keychains are the perfect way to do so. You will receive special discount pricing based on the total amount of good luck charms you purchase, irrespective of the model and prayer mix you order. This discount will be applicable even if you choose to mix both pocket and key chain designs.

CONTACT DETAILS

Should you have any questions or comments regarding Traveler's Prayer wholesale Christian gifts and good luck charms, simply send an email to info@travelers-prayer.com. You will receive a response to your query as soon as possible.